The Sea of Galilee is located about 2 1/2 hours north of Jerusalem and can be reached via the Jordan Valley or through Nazareth. The main city on the Sea of Galilee is Tiberias.
It was here where Jesus walked on water and performed The Miracle of Loaves and Fish . On the Mt. of Beatitudes, he conducted The Sermon of the Mount. Tiberias was built on the ruins of an old Jewish cemetery, and was founded in AD 19 in homage to Emperor Tiberius. Tiberias is best known for its hot springs with medicinal properties at Hammat Tiberias to the south of the town and its fish known as St Peter's fish.
On the northern shores of the lake one can find Capernaum, Christ's own town. Located here is Saint Peter's house in which Jesus lived while his apostle was lodged with his in-laws at Bethsaida. The house is now covered by a church with basalt walls while still showing the first century walls.
Nazareth
Nazareth is home to the largest Arab community inside of Israel. During the 1950's the city saw an influx of Jews who settled in the new quarter of Nazareth Illit. Nazareth is dotted with churches, convents and monasteries that have been built since the 6th century. The most known landmark in Nazareth is "The Basilica of The Annunciation", a Franciscan church dating back to 1730. In 1955, it was destroyed to give way to a new building completed in 1969. The construction allowed the site to be excavated, the results of which are on view in the Franciscan Museum within the walls of the church. The church covers the traditional site of the Virgin Mary's house, the Virgin's cave, where the archangel Gabriel appeared to Mary to herald the birth of Jesus as described by Luke: " The angel Gabriel was sent from God unto the city of Galilee, named Nazareth, to a virgin espoused to a man whose name was Joseph, of the house of David; and the virgin's name was Mary".
A small sanctuary is dedicated to Conon, a 3rd century martyr originally from Nazareth and a member of Jesus' family. Graffiti on the wall has made it easier to understand Judeo-Christians, Jesus' first disciples. The church is also covered with magnificent art from all around the World. Across from the square is St. Joseph's Church built over the cave thought to be Joseph's house. The Greek-Catholic Church in the center of the animated suq (market) is the site of the synagogue where Jesus is said to have preached as a young man. Uphill on Paul VI Street, you come to Mary's Well, the water of which is said to heal all ailments. Further uphill, you come to St Gabriel Greek Orthodox Church, which stands over the town's original water source.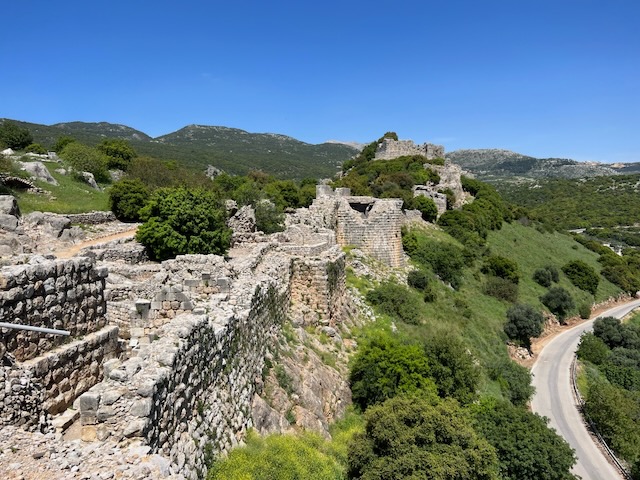 Nimrod Fortress – Built by the Ayyubids in the 13th Century